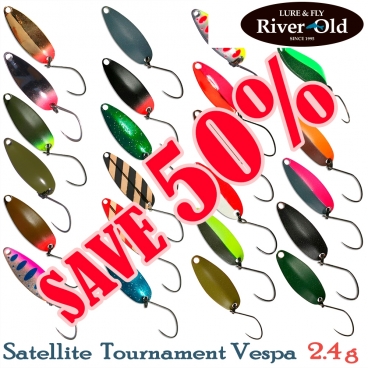 Vespa series is the first "Ridge Spoon" in Japan. All other Vespa series also have a "ridge" shape.
A model that made the name of Vespa known to the world.
It is a Vespa where reports of big catch are continually in various places. It can be used for a wide range from surface fast retrieve to bottom slow retrieve. You can get a bite anytime, anywhere, regardless of the field.
Satellite Tournament Vespa 2.4 g - this is a reduced version of Satellite Vespa 3.2g.
The slim design inherits the unique tight wobbling and irregular action of Vespa, covering the surface to the middle.
In particular, the side-sliding action is good, and the trout that arrives behind this spoon will bite out!
Colors #21 to #25 also include a new satin color that is effective during severe daytime hours and a half color that demonstrates a 1/4-color glimpsing effect.
These also have a satin color on the left half of the back side.
Ease of use & distance is also excellent, please experience amazing fishing results by color rotation.
In addition, the fling distance is outstanding and it is possible to approach special points that could not be reach with a 1-2 g spoon, making it easy to use for anyone.