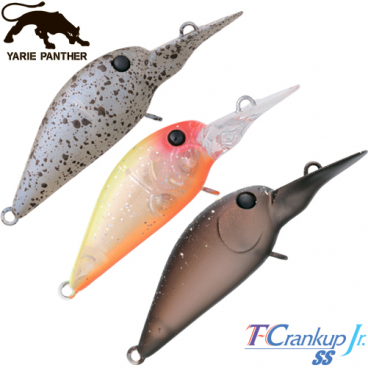 Easy to cast as far as you can
Appropriate resistance in reeling
Not likely to be entangled with a hook
High hooking rate
Prevent more fish from getting away
Attracting and triggering qualities of the original T-Crankup are adjusted to suit the smaller size of T-Crankup Jr. One of the required performance for a srnall-size crankbait is a long flying distance. T-Crankup Jr. aims to extend a flying distance not with a heavier sinker, but with a good flight posture by adjusting the weight of a sinker to enable it to sink as slowly as possible. Its quick swimming action helps anglers effectively fish in locations that have not been targeted by previous small-size crankbaits. It is designed to show a strong swimming action for a slow sinking crankbait. This strong action entices active fish closer to the crankbait and stimulate it to bite.